The Senate Select Committee On Intelligence, Chaired by Marco Rubio (R-Florida), "remains concerned that there is no unified, comprehensive process within the Federal Government for collecting and analyzing intelligence on unidentified aerial phenomena, despite the potential threat."
— Senate Intelligence Authorization Act for Fiscal Year 2021, Division W, incorporated in combined COVID-19 Relief and gov't. spending bill, signed December 27, 2020, by Pres. Trump
January 11, 2021  Albuquerque, New Mexico – On Sunday, December 27, 2020, President Trump finally signed the 5,593-page, $2.3 trillion COVID-19 relief and government funding bill. What most Americans did not know was that buried near the end of the massive bill in "Division W – Intelligence Authorization Act for Fiscal Year 2021" was the Advanced Aerial Threats insertion below attached to the annual Intelligence Authorization Act for Fiscal Year 2021.  See Websites at end of this report for bill.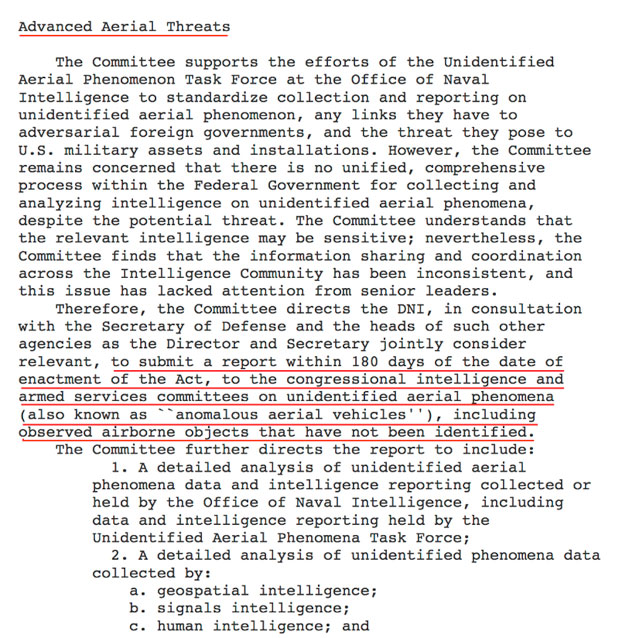 So what will happen at the end of June 2021, when the 180-day-countdown in this legislation is over and the Director of National Intelligence and the Secretary of Defense are supposed to report to the American people perhaps some truths about "unidentified aerial phenomena, anomalous aerial vehicles and airborne objects that have not been identified"? Further the bill requests "a detailed analysis of unidentified aerial phenomena data and intelligence reporting collected or held by the Office of Naval Intelligence, including data and intelligence reporting held by the Unidentified Aerial Phenomena Task Force (UAPTF) … and  "Identification of potential aerospace or other threats posed by the unidentified aerial phenomena to national security, and an assessment of whether this unidentified aerial phenomena activity may be attributed to one or more foreign adversaries."
What "Foreign Adversary" Bombed Mars?
Earlier this week I took the 180-day-countdown news to John Brandenburg, Ph.D., a plasma physicist now working on gravitational physics at Kepler Aerospace in Midland, Texas. He began studying 1976 Viking 1 radioactive isotope data on Mars in the 1980s. By 2015, he reported what he learned in his book, Death On Mars.
John's research from 1984 to 2015 convinced him to report that there are radioactive isotopes on Mars that were produced by at least one hydrogen bomb explosion. John told me that even more recently a space intelligence analyst in Washington, D. C. told him there is now "irrefutable proof" that Mars was bombed because of the confirmation of Plutonium-244 in the Cydonia region of the red planet. The government's new Unidentified Aerial Phenomenon Task Force is supposed to report at the end of the 180-day-countdown about "foreign adversaries" behind UFO/UAP phenomenon. I wonder where the "foreign adversary" threat in the Martian history is today?
Please see my video (14:37) with John Brandenburg, Ph.D., plasma physicist, at my January 6, 2021, Earthfiles YouTube Channel broadcast at this link:  https://www.youtube.com/watch?v=3QmKP0WB3HE
Interview Transcript
John Brandenburg, Ph.D., Plasma Physicist, recorded January 2, 2021: "I was approached by people in the remote viewing community and by other people in the space intelligence community that I used to work with in Washington, D. C. And they told me in the last two and a half years while I was part of the Independent Mars Investigation team — which, turned out, was headquartered at SRI (Stanford Research Institute) in Palo Alto. And I was told it was actually just down the hall from the headquarters of the remote viewing. While we were doing our unclassified investigation, we went to a conference and presented our results for a case on Mars 2 conference where it was well received.
I was told that while we were doing that in February 1984 through July or August, what happened was that the U. S. government had its own classified investigation that was massive and involved every intelligence asset that they could bring to bear on the problem. Prominent Mars scientists were involved. And I asked these people, 'What was your conclusion of the massive classified investigation carried out by the CIA and the Pentagon and down at the White House. It was two of them and they got this very cagey look and looked at each other and smiled and said, 'Well, we decided it was 50/50. It could be a civilization; it might not be,' which — you know, that's a dodge. That's a very lame way of saying, 'Yeah, oh yeah, we confirmed what you found.'
Quite recently, I was informed by one of these same contacts. These people were friends and colleagues that I had worked with in Washington, D. C., and I had a conversation with one of them (about Plutonium-244 reported on Mars). And he said, 'John, you now have irrefutable proof that you were right.'
I had focused earlier on the Xenon-129 and Krypton isotopes by hydrogen bomb explosions. But there are other isotopes that can be used as forensic signatures of hydrogen bomb detonations. One of them is Plutonium-244. It's not created in nuclear reactors. It's only created in hydrogen bomb detonations — or supernovas. Its half-life is like 80 million years.
So, our best guess is Mars was bombed and wiped out probably 200 million years ago. So that would only be about a little bit more than two half-lifes of Plutonium-244. So, it would still be there in the soil. And once you see that, then you know! You know this was a hydrogen bomb explosion on Mars. Plutonium-244 was only discovered in the residues from the first hydrogen bomb tests on Earth. They had never seen the isotope before they set off a hydrogen bomb. Plutonium-244 was created in that explosion.
You can't make it in a reactor or you can't make it in any quantities that you can study. But in a hydrogen bomb, you create a lot of it.
AND SO YOUR HYPOTHESIS IN 'DEATH ON MARS' IS THAT THERE WAS A CIVILIZATION ON THE RED PLANET — LET'S SAY 200 MILLION YEARS AGO — THAT SOMETHING ELSE IN THIS COSMOS THAT HAD EITHER A VENDETTA, OR WAS FIGHTING OTHERS IN THIS SOLAR SYSTEM OVER SOMETHING — EXPLODED A HYDROGEN BOMB ABOVE CYDONIA?
Yes. Actually, what's interesting is they exploded it in mid-air to the northwest of Cydonia and the prevailing winds are from the northwest. That means all the fallout — the shock wave — would be increased in strength and the fallout would all fall on Cydonia Mensae (face on Mars). So that the immediate destruction and the fallout that would kill all humanoid life would also fall in Cydonia.
And the same pattern exists in a place called Galaxias Chaos, which I discussed in the book. We know the bombs were set off there because there are radioactive scars on Mars in thorium, in potassium — that show the bombs went off in mid-air above there.
Because there's no craters. These were airbursts just like Hiroshima and Nagasaki were airbursts because if you're going to destroy civilian structures above ground, you want airbursts. It maximizes the shock wave.
NOW, HAVE YOU TALKED ABOUT THIS SPECIFICALLY WITH ANYBODY, WHO HAS WORKED IN THE DEPT. OF DEFENSE OR THE CIA, NSA, DIA, GEO-SPATIAL WORLD OF INTELL?
Yes, I have.
HOW DOES THE DISCUSSION GO?
The first inkling I had that the Xenon-129 was the signature of a nuclear explosion was told to me by somebody at Sandia Labs, who was apparently an expert on sampling air after nuclear explosions. I was just standing in line with him at the xerox machine. It was back in 1984. He noticed I was carrying a book about Mars and asked me about it. And I said, 'Mars has very interesting isotopes, especially Xenon-129. It's got a big spike. And that's not present in the solar wind or anything else.
He said, 'Can I take a look at that?' And he looked at it and the smile went away from his face. He said, 'Somebody nuked them.'
And then he looked embarrassed and suddenly he said, 'I'm sorry.' And put down the book he wanted to xerox and left the line. He had said something that he knew was classified.
That was in 1984. And then Washington, D. C. when I finally started getting better data about Mars, showing the Xenon-129 isotopes and things like this. And I showed this to several nuclear weapons experts in the offices where I was working in the scientific intelligence areas that I was working in.
And they said, 'Oh, yeah. Yeah, that's a hydrogen bomb signature. Definitely!' they said.
WHY DO YOU THINK THAT THE POWERS THAT BE ON THIS PLANET CHOSE TO KEEP ALL OF US DUMB AND BLIND ABOUT SUCH A SIGNIFICANT DISCOVERY?
Well, the government has known about this since the moment they landed on Mars and sampled the atmosphere in 1976. They landed with two probes and both probes verified this. And they just said to themselves, 'We're in the middle of the Cold War and we're afraid we're going to have a nuclear war here, too, revealing there was an absolutely planetary nuclear war on Mars.
When you are in charge of a government, especially during a time of great conflict like the Cold War, maintaining public morale is paramount. You always put a top spin on everything.
WHAT WOULD HAPPEN IF THEY JUST TOLD THE TRUTH?
Oh, once the toothpaste is out of the tube, you can't put it back in again!
WHAT IF EVERYTHING WOULD BE BETTER IF THE ENTIRE PLANETARY FAMILY WERE ALL TOLD THE TRUTH AT THE SAME TIME? (that) POWER BROKERS AND HUMBLE FARMERS ALL KNEW THE SAME TRUTH? WHY IS THAT BAD?
When I began writing all this stuff up, and I discussed this with the intelligence people from the CIA and Defense Intelligence Agency and various military intelligences, we had an agent rather clumsily following us around. He posed as an astronomy professor. Turns out he worked for the Defense Intelligence Agency. We found that out because Washington, D. C. is a small town.
We were all standing at a conference together, myself and Vince DiPietro, an original investigator and this other fellow named Larry. This colonel in the Air Force walked up in full uniform and introduced himself to Vince and I. Then he turned to Larry and said, 'Hi, Larry, How are things at the Defense Intelligence Agency?'
And Larry was a real pro. He didn't even bat an eyelash. He just said, 'They are fine, Colonel, thank you for asking.' So we knew he worked for the DIA. He was constantly asking us for the latest information.
I found out that yes, I had confirmed that this was a nuclear weapon's signature.
ON MARS.
Yes. I called him up. I just said, 'I want to give you a briefing. And I want you to report it to your superiors. I did. He took such careful notes that it was apparent that he had never heard of this before.
Then nothing happened for like six months. And then another contact that I worked with in the intelligence community said, 'Why don't you publish all of this?' So, the government wanted it to come out. They basically told me to publish. The truth is coming out.
AND, JOHN, THIS LEADS TO SUCH AN IMPORTANT QUESTION RIGHT NOW. WE ARE GOING INTO 2021 AND ELON MUSK IS TALKING ABOUT HOW HE HOPES THAT HE CAN LAUNCH ONE OF HIS STAR CRUISERS TO MARS IN 2024 WITH A GOAL OF PUTTING A MILLION HUMANS FROM EARTH ON MARS IN PROBABLY AN UNDERGROUND LAVA TUBE BASE BETWEEN NOW AND 2050.
DO YOU KNOW ANYTHING ABOUT WHY ELON MUSK WANTS TO GET A MILLION HUMANS FROM EARTH TO MARS, KNOWING EVERYTHING THAT YOU KNOW ABOUT THE NUCLEAR PAST OF SOMETHING THAT ATTACKED MARS? HAS ANYONE IN GOVERNMENT OR INTELLIGENCE IMPLY TO YOU THAT THEY HAVE KNOWLEDGE OF A SPECIFIC CIVILIZATION — WHETHER IT'S IN THE MILKY WAY GALAXY, ANDROMEDA, OR WHEREVER — THAT WOULD HAVE A MOTIVE TO WIPE OUT TWO PLANETS IN THIS SOLAR SYSTEM IN THIS ARM OF THE MILKY WAY?
Everything that happened on Mars, you can draw a parallel to that it happened on Earth. It could be that the people who did this wanted to terrorize other people in the Milky Way and show how ruthless they were. Because people on Earth do things like that.
OK, AND THAT LEADS TO A HEADLINE THAT CAME OUT DECEMBER 29TH, 2020, IN THE NEW YORK POST: "COVID-19 BILL STARTED A 180-DAY COUNTDOWN FOR UFO DISCLOSURES AND THAT BILL WAS SIGNED ON SUNDAY, DECEMBER 27TH. THAT MEANS 180 DAYS FROM NOW WOULD BE THE END OF JUNE OF 2021. WHEN YOU HEAR THIS, WHAT DO YOU EXPECT IS GOING TO HAPPEN IN SIX MONTHS IN TERMS OF NOW LEGISLATION DEMANDING THAT THE DEPARTMENT OF DEFENSE TELL SOMETHING TRUTHFUL ABOUT UFO/UAP PHENOMENA?
Well, the people I have talked to, they always spoke of these things in these videotapes as possibly hostile actors. So, we're being prepared for the fact that not everybody in the universe likes us; but not everybody in the universe is pleasant.
I THOUGHT THAT YOU WOULD GO IMMEDIATELY TO THE WHOLE ISSUE OF WHATEVER HAPPENED ON MARS IN WHICH THERE IS EVIDENCE OF A HYDROGEN BOMB. AND THAT MEANS THAT SOMEBODY KNOWS ABOUT THE SOLAR SYSTEM AND KNOWS ABOUT MARS, KNOWS ABOUT EARTH AND THAT 200 MILLION YEARS AGO, THERE WAS HOSTILE ACTION IN THIS SOLAR SYSTEM. SO RIGHT NOW, THE QUESTION IN THE 21ST CENTURY IS: ARE THOSE HOSTILES STILL OUT THERE? AND ARE THERE FRIENDLIES AND NEUTRALS THAT ARE PROTECTING EARTH AND HUMANS? AND IS THAT WHY WE'RE STILL HERE?
The whole Mars hypothesis by its very nature tells people that the universe is a rough neighborhood. You must be on your guard. If somebody was to show up with large space fleets with super hydrogen bombs, we would have a nuclear war — in space. But I don't know whether we could prevail or not.
The Death on Mars hypothesis requires you to understand that there are forces in this universe that are very hostile to young spacefaring species like ourselves.
WHAT DO YOU THINK ELON MUSK KNOWS ABOUT YOUR HYPOTHESIS OF DEATH ON MARS AND THE EVIDENCE OF A DEAD CIVILIZATION?
It's my understanding that Elon has already been kind of taken aside by government officials when he talks about his proposed landing sites on Mars. They are far away from Cydonia Mensae and Galaxia Chaos and Elysium — which are three of the centers of archaeology. So, I think he has been told not to talk about this. He's supposed to talk about getting to Mars. They're going to tell him where to land. And what to say.
WHAT IS BEHIND HIS SAYING RECENTLY THAT HE PLANS TO HAVE RELAYS OF STAR SHIPS SO THAT HE CAN HAVE A MILLION HUMANS FROM EARTH ON MARS BY 2050?
Having a big settlement on Mars means you can turn Mars into a fortress so that any hostile entities have to attack Mars first. Otherwise, they'll face a battle in space from Earth forces and Mars forces. And so there are many reasons why fortifying both the moon and Mars will maximize human chances of survival.
Everything that I've hypothesized happening on Mars has already been seen on Earth — including life, evolution, humanoid intelligence, building of great structures and pyramids and carved faces. And then, dropping nuclear weapons on helpless populations. That's all occurred on Earth. The idea is to make sure it doesn't happen again."
COVID-19 Relief Bill that near end in Division W contains UFO/UAP 180-day-countdown from Dec. 27, 2020 to June 24, 2021: https://beta.documentcloud.org/documents/20433223-covid-19-relief-bill
This content was originally published here.