Is That Glow a UFO? No—It's an ICBM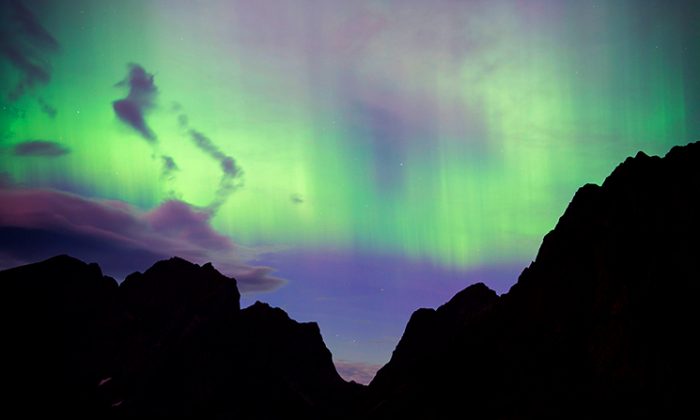 Northern lights (aurora borealis) illuminate the sky over Reinfjorden in Reine, on Lofoten Islands, Arctic Circle, on September 8, 2017./Photographers waiting for the Northern Lights in Siberia on the night of Oct. 26 saw an unexpected sight. (Jonathan Nackstrand/AFP/Getty Images)
A group of photographers camping out in Siberia to shoot the Northern Lights saw a sight every bit as spectacular and even more mysterious.
Viewers were stunned to see a huge, glowing, bubble of light rise into the sky. It was weird, it was unidentifiable—and it was flying. It was an Unidentified Flying Object.
According to Siberian Times, many people saw the inexplicable bubble and at least five took pictures on the night of Oct. 26–27.
Some people described the bizarre bubble as "a gap in the space-time continuum" according to the Siberian Times. Others said it must have been aliens.
The actual explanation is a bit more mundane.
The Russian Ministry of Defense reported on its Facebook page that it had launched a Topol-M intercontinental ballistic missile from a missile base in northern Siberia that night.
According to the Facebook page, the Topol-M missile was fired from the Plesetsk Cosmodrome in northwestern Russia toward the Kura testing range in Kamchatka, which is on Russia's far eastern Pacific peninsula.
The strange atmospheric effects caused by the missile launch came as a kind of extra treat for the photographers, who were there to capture what was predicted to be an exceptionally bright display of the Aurora Borealis.
This content was originally published here.